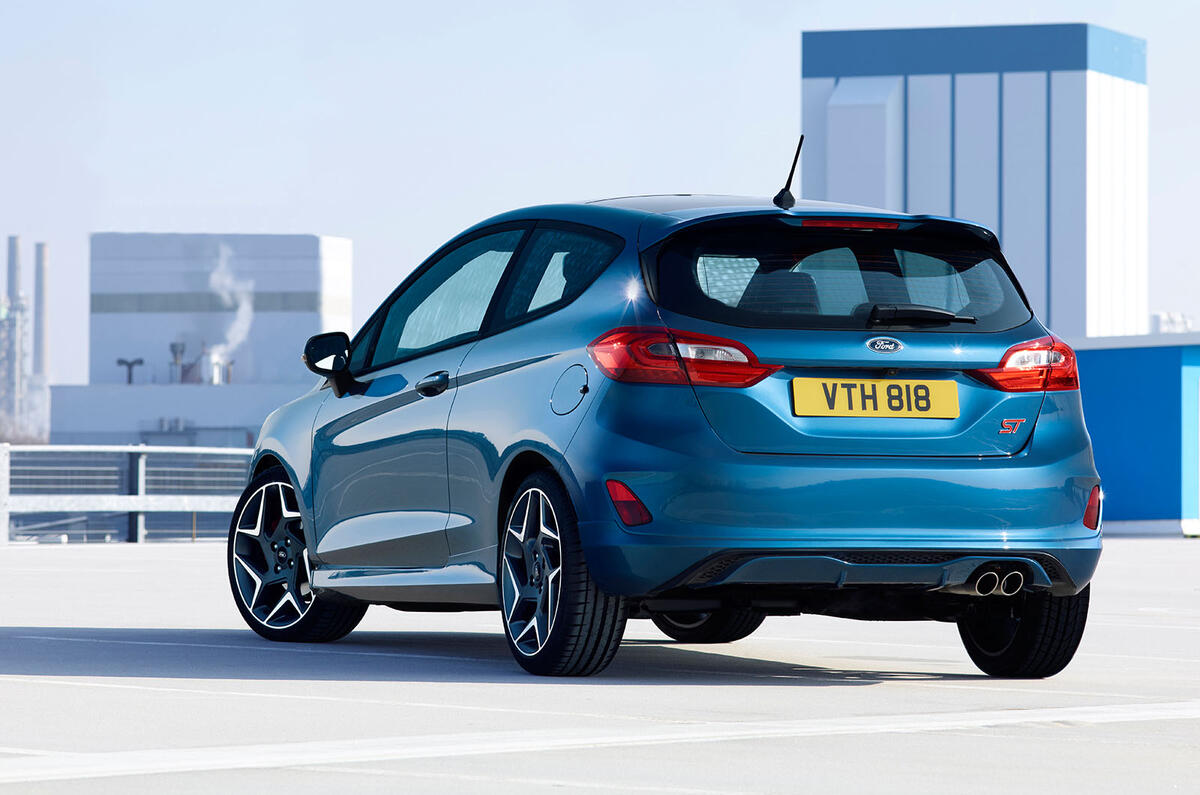 The all-aluminum engine also boasts high-pressure fuel injection, twin-independent variable cam timing, and cylinder deactivation, which cuts off fuel delivery and valve operation for one cylinder when full performance isn't required, effectively turning the three-cylinder into a two-cylinder engine temporarily. The system can disengage or re-engage the cylinder in just 14 milliseconds.
Despite it having 25% fewer cylinders than its award-winning predecessor, the new Fiesta ST produces 200PS, which is 197bhp in old money.
This, plus an expected boost in torque sees the latest Fiesta ST sprint to 100km/h, from rest, in just 6.7 seconds - 0.2sec quicker than the old vehicle.
Thankfully, the mighty three-banger will make the same 197 horsepower that the current 1.6-liter turbo four-cylinder makes, albeit with a throatier rasp. The exhaust manifold is also integrated into the head, improving efficiency by helping the engine reach optimal temperatures faster, and minimizing the distance exhaust gasses travel between the cylinders and turbocharger. Quite a bit. The ST now has three drive modes - Normal, Sport and Track - which adjust the usual parameters of steering weight, throttle response and ESC threshold.
This morning, Ford Europe introduced the newest Fiesta ST and while the vehicle shown and discussed here is a European model - we can expect a very similar Fiesta ST for the American market. Ford says it will also offer a wide range of personalization options. The stability control system has three settings to allow a progressive reduction of electronic intervention under hard driving.
More news: White House says transgender bathroom guidance under review
Ford will build three and five-door versions of the Fiesta ST, and although clearly a supermini hatchback in origin, it has enough visual drama to set it apart from slower, humbler models. There are plenty of options inside, too, including a variety of trim elements for the gear level, steering wheel and door pulls, as well as several distinctive styling packs.
The Mk III Ford Fiesta ST will boast selectable drive modes, enabling drivers to switch between Normal, Sport, and Track programs to tailor the car's behavior to the situation at hand.
The new auto also features an active exhaust valve and "Electronic Sound Enhancement", the dark art of supplementing the exhaust note with sounds played through the interior speakers and hardly a surprise given the engine's pint-sized proportions.
Expect an announcement about the US version at a later date, perhaps only as the four-door.