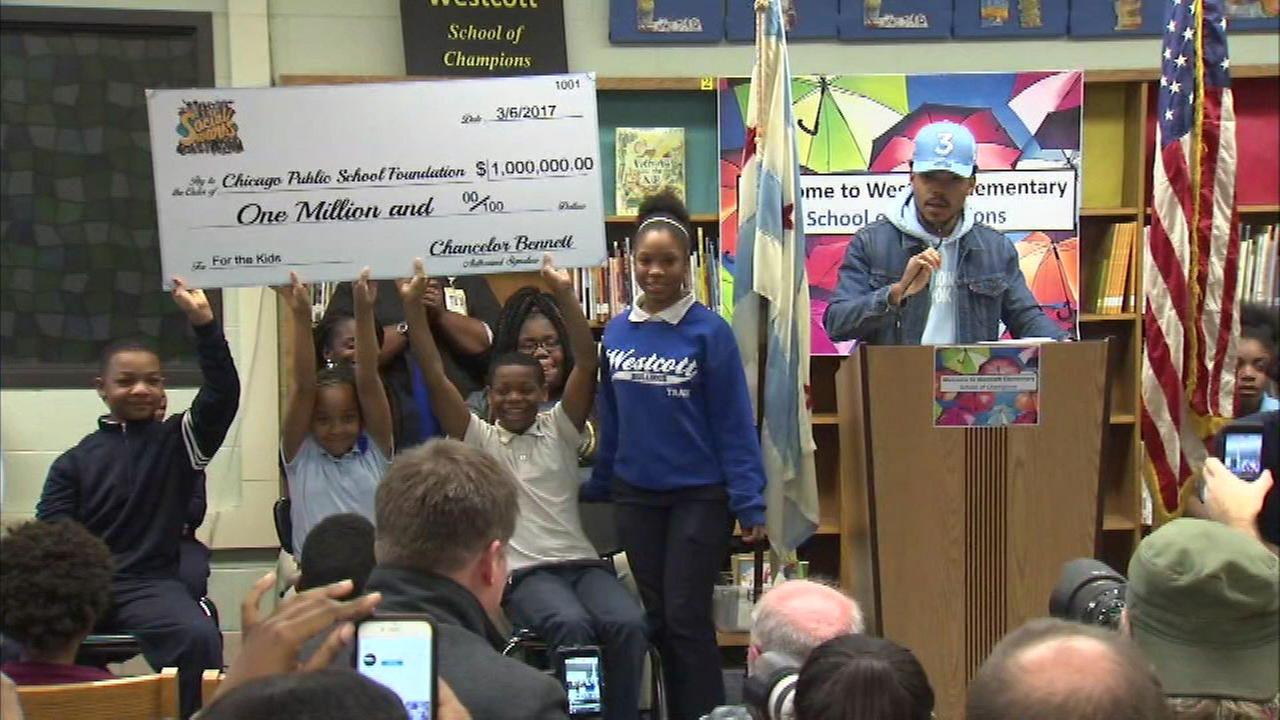 Last week, Chance met with the Governor Rauner to urge him to allocate more money for to Chicago Public Schools.
Prior to Chance's press conference on Monday, Rauner's administration circulated a memo with options for funding public schools, according to the Chicago Sun-Times.
On Monday, the Grammy Award victor announced that he will be donating $1 million to Chicago public schools.
The announcement, during a live-streamed press conference Monday afternoon at Westcott Elementary School, followed a 30-minute conversation with the governor a few days earlier in Chicago. "I'm challenging major companies and corporations in Chicago and all across the nation to donate and to take action", said the rapper, at times reading formally in contrast to his on-stage poise.
Money for the $1 million donation will come from Chance's spring tour, set to kick off in April.
Chance the Rapper has become Chance the Philanthropist and people are taking notice.
The governor vetoed legislation in December that would have sent the district $215 million to ease its massive pension burden, prompting the district to cut costs, furlough employees and freeze school budgets. Reading in between the lines of what was being said by both, it appeared as though Chance wasn't prepared to talk politics like a politician and Rauner basically ran circles around him, neither agreeing or promising on paper or in words to anything other then that it was an issue on his plate.
More news: New Lightning Mapper Imagery From GOES-16 Awes Meteorologists
When Westcott Elementary School principal Monique Dockery received a phone call from Chance the Rapper this Sunday, she didn't recognize the number.
"He gave me a lot of vague answers, so we'll see what happens", Chance the Rapper told reporters after the meeting.
The rapper also called on wealthy Chicagoans to step up and donate to the city's schools. This game of chicken between Democrats and Republicans, though, only harms the children in the Chicago Public School system, and points to the real problem at the heart of Rauner's willingness to let the schools go unfunded: he doesn't need to care. As a private citizen, as a parent and as a product of CPS, I'm asking that you guys join and fight with me, organize with me, mobilize with me, for the interest of the children of Chicago.
If you'd like to take a page out of Chancellor Bennett's playbook, you can make your own donation to Chicago's public schools using this link.
He later tweeted "Do your job" to the governor.
In addition to the $1 million, Bennett said his organization will continue to donate 10 percent of its proceeds to individual schools in the Chicago area, but warned that public schools can't run on donations alone.