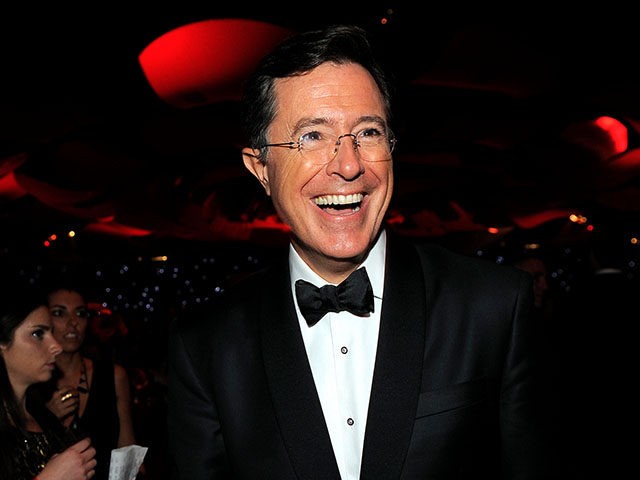 That's right, Colbert is having all his classic Daily Show pals on as guests for Tuesday's show, including John Stewart, John Oliver, Samantha Bee, Ed Helms, and Rob Corddry. We got a farcical flashback to Colbert's last day at Stewart's Daily Show-starring Bee in an unbelievable curly wig as she worries about losing then-president George W. Bush, saying "there will never be another president this good for comedy".
"There's never going to be another president this good for comedy".
Stewart ended on a yogurt-infused sitcom-father speech, to cap off the nostalgia. Then he pointed at Stewart.
He ended with a classic Jon Stewart moment on Colbert's fellatio joke about Trump and Russian Federation.
"Even if [the things Colbert says] are crass or even if they in some ways are not respectful enough to the office of the presidency", Stewart said, "we can insult; [Trump] can injure". "Like, it's the difference between insult and injury".
Colbert and Stewart reminisced about the first time they met, at the press conference announcing Stewart as the new host of the Daily Show in 1999, when Colbert asked him a sarcastic question while posing as a member of the press. "Beloved correspondent from "The Daily Show" in 2005". I'm in a studio surrounded by craft services, yet in a Benjamin Button scenario, I'm at the beginning of the movie, and you all seem fine.
On a "Late Show" that reunited much of the original "Daily Show" cast, Stewart also had a one-on-one interview with Colbert, where the two mocked the recent FCC controversy and #FireColbert movement.
More news: City of Montreal declares state of emergency from flooding
"I had to flee the Klan one night", Colbert confessed.
"I would spend days with the worst people you could possibly imagine", she said.
Stewart explained that he misses how his involvement in the show helped him "make sense" of the news. Here are five things we learned from "The Daily Show" reunion.
In a subsequent episode of "Late Show", Colbert stopped short of an apology, saying he would tell the joke again but would "change a few words that were cruder than they needed to be".
"I'm not comfortable. I don't feel comfortable".
Sometimes those sketches went from uncomfortable to unsafe - like when Colbert offended the Ku Klux Klan.
Less than one minute into a reunion between him and five of his most famous former Daily Show correspondents, Jon Stewart says, "I think the thing I'm proudest of, from The Daily Show was the diversity".