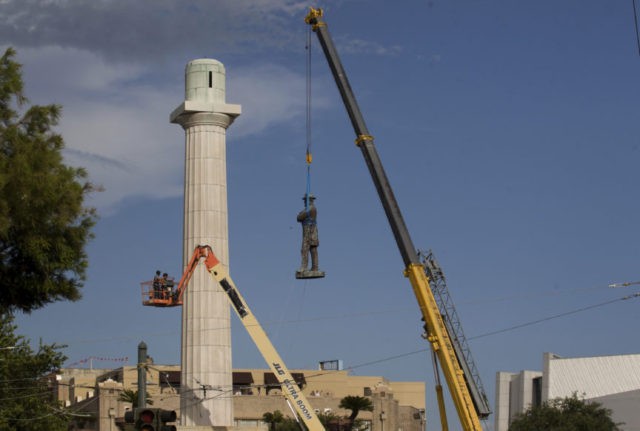 Mississippi State Representative Karl Oliver wrote in a social media post that leaders who removed Confederate monuments in Louisiana should be "lynched".
A MS lawmaker has apologized for saying Louisiana leaders should be lynched for removing Confederate monuments, only after his comment sparked broad condemnation in both states.
The city of New Orleans has spent the past few weeks uprooting and moving Confederate monuments, including statues of Gen. Robert E. Lee and Jefferson Davis, out of sight.
The message caused alarm when the elected official outright said that those in Louisiana who are "destroy [ing] historical monuments of OUR HISTORY" should be "LYNCHED!" "Let it be known, I will do all in my power to prevent this from happening in our State".
The Free Press also reported on Oliver a year ago, when he replied to a Gulfport resident's email about budget cuts with his own email, which read in part, "The people of our Great State overwhelmingly share my same or similar views on Government responsibility".
Oliver called the action in New Orleans "heinous and horrific", and likened it to Nazi-era book burning.
Numerous Democratic state lawmakers spoke out against Oliver's comments.
More news: Carlos Martinez earns win against Cubs
A MS lawmaker is saying Louisiana leaders should be "lynched" for removing Confederate monuments.
As of Sunday night, no state Republicans had publicly condemned Oliver's post, according to Mississippi Today. Republican House Speaker Philip Gunn stripped Oliver of a committee vice chairmanship.
Both Republicans and Democrats in MS issued statements condemning Oliver, with Republican Governor Phil Bryant saying his "language is unacceptable and has no place in civil discourse".
Additionally, Sen. Sollie B. Norwood, D-Jackson, believes Oliver's said what he meant in his original post. The Mississippi House of Representatives sent the news site a statement: "Like all members of the House, Representative Oliver reserves the right to voice his opinion on any matter he chooses".
Oliver, a funeral home director from Winona, said on Monday that he had embarrassed fellow legislators and the state and that his choice of words was inappropriate.
Mississippi Senate Democratic Caucus Chair Bill Stone and House Democratic Caucus Chair David Baria also issued a statement objecting to the language.