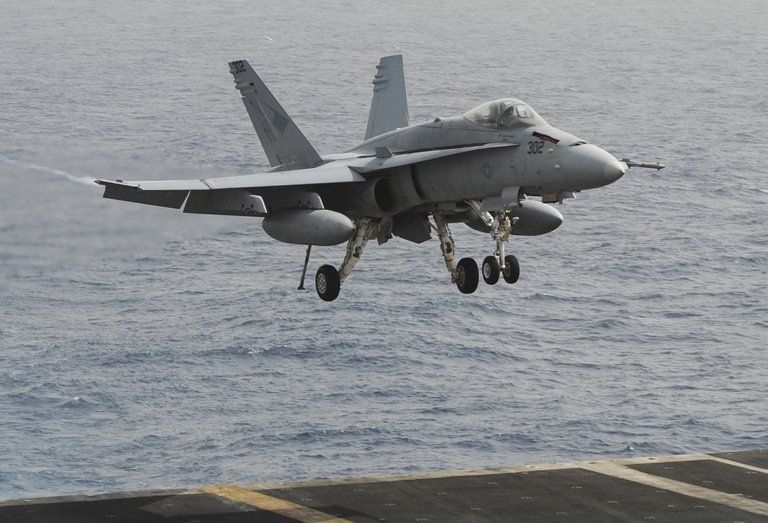 An F/A-18 Super Hornet was forced to maneuver away after being buzzed by an Iranian drone during a carrier landing attempt in the Central Arabian Gulf, Navy officials said Tuesday.
"The F/A-18E maneuvered to avoid collision with the QOM-1 resulting in a lateral separation of approximately 200 feet [61 meters] and a vertical separation of approximately 100 feet [30 meters]".
But this appears to be the first time an Iranian drone has come dangerously close to a U.S. fighter plane in the Gulf.
The encounter between the U.S. Navy and Iranian aircraft follows a series of close calls in the Persian Gulf between naval vessels.
The aircraft from the Nimitz are conducting regular sorties for Operation Inherent Resolve in Iraq and Syria, but a USA military official could not say whether this jet was returning from one of those missions. It did eventually move off.
More news: The US Military Can Now Shoot Down Consumer Drones
Unnamed officials described the incident as "unsafe and unprofessional", according to the reports.
The official, speaking on condition of anonymity, said that despite repeated radio calls to stay clear of the USA plane, the Iranian drone "executed unsafe and unprofessional altitude changes" close to the U.S. navy F/A-18E.
This is not the first time the US Navy has accused Iranian drones of operating unprofessionally while in close proximity to US ships.
Earlier, the USNS Invincible, escorted by the British Royal Navy, experienced a close encounter with high-speed attack ships deployed by the Iranian Revolutionary Guard, ultimately compelling the U.S. spy ship and her formation to alter her course.
In July, a U.S. Navy ship fired warning shots at an Iranian vessel after U.S. officials claimed it closed to within 150 yards (450 feet).