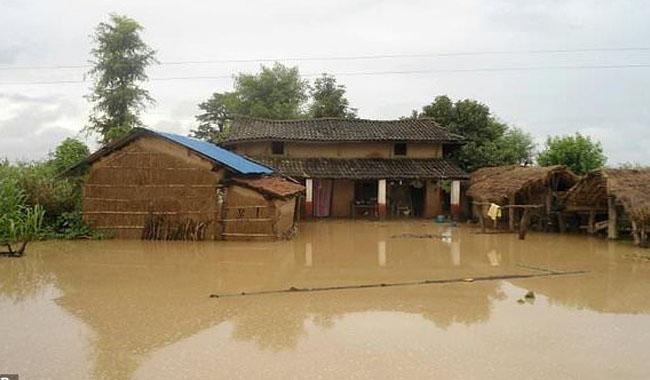 The Nepal Home Ministry said 49 people were killed and 36 were reported missing.
The floods and landslides have claimed at least 53 lives over the past three days, in the Terai region bordering India and other areas of Nepal, according to the Government of Nepal.
The Ministry also stated that personnel of the Nepalese Army, Nepal Police, the Armed Police Force, trained security persons and other human resources have been mobilized under the leadership of the local administrations for carrying out search and rescue in the flood affected and inundated areas.
In the popular jungle safari resort of Sauraha in Chitwan, hotels were forced to shift their guests to higher floors as waters rushed into the premises.
On Saturday, Mahara called on Indian ambassador Majeev Singh Puri to request him for New Delhi to open the floodgates on the Koshi, Gadak and Rapti rivers, and as per reports, India took prompt action and helped smooth discharge of waters. Power and communication has been cut off in many areas and emergency services have had a hard time accessing some places. Many roads are submerged or covered by debris from landslides, providing further challenges to rescue efforts.
More news: Late Linkin Park Singer Filmed 'Carpool Karaoke' Episode Before Death
Chief District Officer Narayan Prasad Bhatta said trapped tourists were being evacuated to safer places.
The District Natural Disaster Rescue Committee has distributed dry foods to victims in the flood-hit areas.
The flood situation in Nepal still remains grim.
Weather experts said more rain was expected overnight and the government has told residents to remain alert.
Monsoon rains, which start in June and continue through to September, are important for farm-dependent Nepal, but they also cause havoc each year. Officials have warned that the death toll could increase because at least 17 people are still missing.