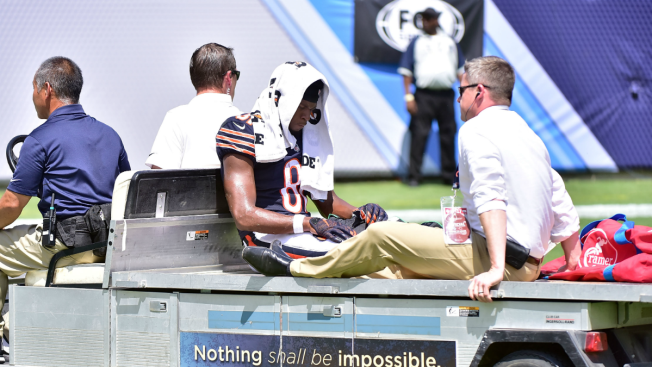 Chicago Bears wide receiver Cam Meredith was carted off the field in the first quarter Sunday's preseason game with a torn ACL, according to Pam Oliver on the FOX broadcast.
Earlier: On Friday, New England Patriots wide receiver Julian Edelman and Kansas City Chiefs running back Spencer Ware suffered season-ending knee injuries in preseason action.
The Bears were hoping for a breakout season from Meredith in 2017. The Bears let Alshon Jeffery bolt to Philadelphia this offseason, so their receiving corps without Meredith is thin. Bear fans are hopeful that it's just an ACL tear and nothing more, but don't rule out the possibility of a MCL and/or a PCL tear as well. Former first-round pick Kevin White will be forced to step up in Meredith's absence, but White has appeared in four games in two years, so he isn't exactly a safe bet.
More news: Chris Wood scores on Burnley debut to earn draw
This announcement came just one day after the New England Patriots announced wide receiver Julian Edelman would miss the 2017 National Football League season with the same injury. Getting him some extra reps in the final preseason game is the right move to make.
Hopefully, this knee injury doesn't derail his progress. Last season, the up-and-coming pass catcher hauled in a single-season career-high 66 receptions for 888 yards and four touchdowns across 14 regular-season appearances for the struggling Bears.