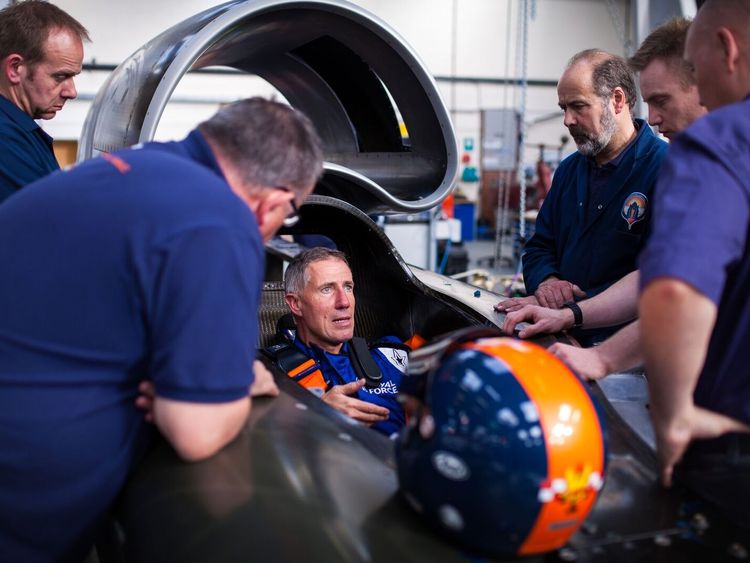 The jet-powered auto that is angling to beat the decades-old land speed world record accomplished its first public test runs today.
The first public run is taking place at Cornwall Airport in Newquay today.
Labelled as "low speed tests", Green will drive the auto on the Newquay airport's runway to speeds of 200mph (about 322 km/h). Described by the Bloodhound Project as "the world's most advanced straight-line racing vehicle", the Bloodhound SSC reached a peak speed of 340 km/h (210mph).
The landmark moment in the high-profile project came 20 years after the current land speed world record was set on 15 October, 1997.
This is a pretty significant moment for the team behind the Bloodhound as this is their first public test, lest hope everything goes well for them and they can move onto the next stage of testing.
More news: Highest performance 2018 Ford Mustang GT developed in secret
The ultimate aim of Bloodhound SSC is to not only break that record but reach a knuckle-whitening 1000mph in the South Africa desert.
Bloodhound uses a Typhoon fighter jet engine to get up to around 350mph before a Jaguar V8 muscle auto engine kicks in to supply fuel to a rocket which propels the vehicle to over 1000mph.
Later in the year, Belstaff will also release two limited edition styles of sunglasses too, designed in collaboration with Andy Green for use in the African desert during the record attempts. Green should reach around 200 miles per hour (320 kph) at Newquay Airport, according to the BBC. Green, along with many Bloodhound Project team members, achieved a speed of 760 miles per hour in 1997 with a turbofan-powered vehicle, the ThrustSSC, in Nevada.
At Newquay it ran on Dunlop tyres from an English Electric Lightning fighter, but they wouldn't last five seconds at high speed - the real wheels, which will turn at 10,200 rpm, are made of solid aluminium.
To install the rocket system, however, Bloodhound needs cash.