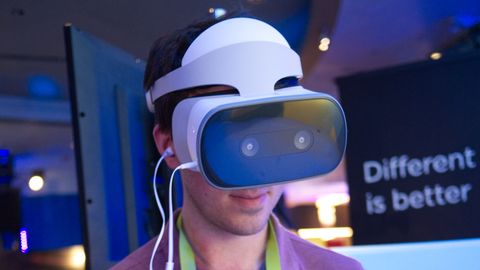 Along with the Mirage Solo headset, Lenovo is also announcing the Mirage Camera, at CES 2018.
The Mirage Solo is nearly like the lovechild of the PSVR headset and the Google Daydream View, combining their sheer simplicity in design with impressive functionality that enhances the VR experience during marathon sessions. It is also compatible with Daydream and works well with the Mirage Solo, as well as other Daydream headsets like the Daydream View. As the name implies, it's simply a camera created to capture and record content that can be best viewed by a Dayream headset, like the Lenovo Mirage Solo, of course. It is powered by a Snapdragon 835 processor, designed for VR experiences, with 4 GB of RAM and 64 GB of built-in UFS storage. There's now plenty of decent content and apps on Google's Daydream platform, and if you're looking for a relatively low-cost and simple way into VR, this could be it. The Mirage Solo's visor portion was more than roomy enough to fit my glasses, a frequent issue I run into with other VR headsets, and the cushioning was fantastic. Lenovo says that they believe this is a better option for viewing photos in virtual reality, and also easier to use.
The big news is its support for Google WorldSense, an inside-out positional tracking technology similar to what Microsoft uses on its line of "Mixed Reality" VR headsets. You won't have any wires dangling from your head, and you don't need a phone or PC. The area that touches your face and forehead is a soft breathable padding with comfort in mind.
More news: BlackBerry Mobile to unveil at least two new phones in 2018
Speaking of apps and games, Back at I/O 2017, Google shared that the Daydream platform has "more than 150 apps" - Facebook and Samsung's Gear VR store had over 1,000 when we counted at the time. Lenovo meanwhile promised to introduce "an impressivesuite of apps that showcase the expanded Daydream ecosystem closer to the headset's availability". Pictures taken with the Lenovo Mirage Camera are still pretty immersive, and actually look pretty good.
Alongside the Mirage camera, Lenovo unveiled the world's first Daydream standalone VR headset, the Mirage Solo. It runs at 75Hz, and the lenses have 110-degree field of view (FOV). The camera features a dual 13 MP fisheye camera and a 180 x 180 degree field of view. Sure, being able to watch Netflix in VR is interesting, but that's not going to move units, especially with the Mirage's expected sub-$400 price tag. In fact, it's a 180-degree camera only. Running Android 7.0 Nougat and Google's Daydream OS.
Lenovo is expecting to charge "under $300" for this camera, which seems like a decent price (and that is for the WiFi model, the LTE model doesn't have pricing yet).