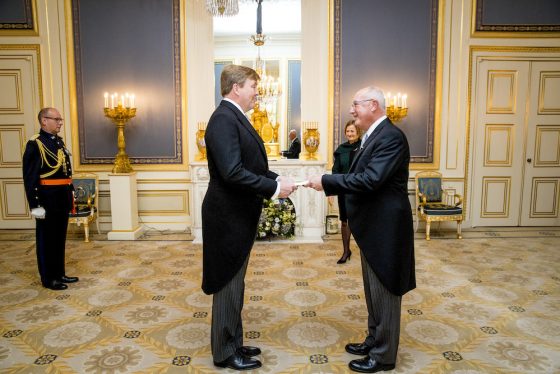 President Donald Trump's ambassador to the Netherlands clashed with journalists at a press conference on his first official day in the job after he was quizzed over comments he had made about the "Islamic movement" creating "chaos" in Europe.
The US and other foreign media have reported widely on the "roasting" the new US ambassador to the Netherlands received from Dutch reporters when he tried to brush off statements about no-go areas and politicians being burned.
Hoekstra, who was born in Groningen and moved to the USA at the age of two, is a staunch conservative who opposes gay marriage and abortion and is pro the death penalty.
"Mr. Ambassador, can you mention any example of a Dutch politician who was burned in recent years?" He then ignored multiple follow-ups, prompting one reporter to say, "This is the Netherlands - you have to answer questions". Are politicians being burned in the Netherlands in the past? But Hoekstra, squirming through his first news conference in The Hague, was merely the more visible of the Dutch media's two targets.
Peter Hoekstra, the newly minted US ambassador to the Netherlands, held his first conference with the Dutch media at his new residence in the Hague on Wednesday.
Hoekstra repeated that he regretted the filmed exchange, which went viral on social media last month, but refused to comment further, angering reporters who were cut off by press officers. "And yes, there are no-go zones in the Netherlands", said Hoekstra while discussing the country's minority Muslim population.
More news: Fire officials investigating cause of Redding apartment fire
"Please, this is not how it works", another reporter said.
RTL political correspondent Roel Geeraedts, told the Washington Post in a telephone interview: 'We were all astonished he did not want to take back the comment. Later, after being played a recording of his comment, he denied calling it fake news. It was awkward, to be honest'.
Hoekstra was repeatedly asked Wednesday at a news conference in The Hague about the remarks he made at a conference in the United States that was sponsored by the conservative David Horowitz Freedom Center.
He takes up the post as USA envoy left vacant for two years, and as immigration is set to again be a hot-button issue in the Dutch local elections due on March 21.
"Why don't you answer the question?" one journalist called out.
Video of the weird exchange, juxtaposed with his "no-go zone" remarks, went viral, and the episode drew a slew of critical headlines in the United States and the Netherlands.